TREES INTO CARTONS AND CARTONS INTO TREES
Packaging company, Unipak, teams up with the Paperboard Packaging Council
to celebrate Earth Day and educate fourth graders about recycling and sustainability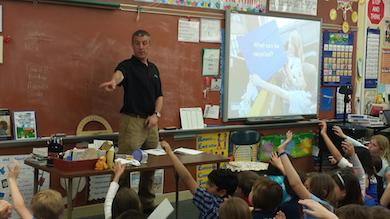 (WEST CHESTER, PA – May 1, 2014) – To celebrate Earth Day and empower Uwchlan HillsElementary School students to become more environmentally conscious and aware of the
positive impact of recycling and sustainability, Teddy Frain, VP of Sales and Marketing at the West Chester-based packaging company, Unipak, in partnership with the Paperboard Packaging Council, presented the Trees Into Cartons, Cartons Into Trees (TICCIT) educational program on April 25th, 2014.
The Downingtown, Pennsylvania, school welcomed Unipak's annual presentation with excitement and Frain introduced the program to a new group of fourth graders. The 93 students who participated in this year's event learned through an interactive presentation, which provided information and statistics on recycling and sustainability, and stressed the importance of planting and preserving trees. After learning about the lifecycle of cereal boxes and paperboard, Frain took the students outside where they planted saplings in milk cartons (which they saved from lunch) and were encouraged to take the saplings home to be planted.
Frain is eager support this program each year and is honored to give back to the community. In reference to Unipak's ongoing participation (this is their fifth year), Frain said, "I think it is important for Unipak to help promote the sustainability of paperboard packaging, and the TICCIT program provides a grass roots effort to accomplish this while making it fun for the kids."
For more information contact Teddy Frain at tfrain4@unipakinc.com. For more information about the Paperboard Packaging Council, please visit http://www.ppcnet.org/
###
About Unipak
Unipak Inc. is a leading folding carton and rigid box manufacturer located in West Chester, PA and serving the immediate region. Unipak uses the finest technologies to ensure every package meets quality standards. The company has earned us a reputation for excellence and value in some of the most brand-conscious packaging markets: food and confections, pharmaceuticals and healthcare, cosmetics, entertainment and media and specialty consumer goods such as crystal, glassware, apparel and board games.
About the Paperboard Packing Council
Now in its 84th year, PPC is the leading industry association serving suppliers and converters of all forms of paperboard packaging. PPC works to grow, promote, and protect the paperboard packaging industry while providing its members with resources and tools to compete effectively and successfully in the marketplace. For more information, call 413.686.9191 or visit www.paperbox.org.